Apr. 01, 2021
"I shall go out buy some brandy, summer gloves, and satin sandals, but the old clumsy rollator doesn't suit me; the colour doesn't go…." Susan mumbling, who is 62 years old and has had MS for 25 years.
"I want one Cadillac rollator when I walk on the streets over Christmas holidays," said Patricia's grandpa, who served as a mechanical engineer for over 40 years, has knee and hip problems.
Conspicuously, the elderly do not just want a traditional rolling walker, but urging for a nice-looking smart rollator, our new model -Artist 9613 was sparked by this point.
The Artist literally is a wonderful mixture of aesthetics and good taste.
How to make a difference?
Our R&D team intended to have a new streamlined design, soon the appearance manuscript has been finalized, which the design is smooth, natural, modern and scientific strong.
It turns out that the given exterior design makes the rear leg of the rollator quite challenging to realize. Still, we make it present perfectly through our specialized manufacturing technology, and more critically, it's not easy to copy by low-end competitors.
In addition, the satisfactory surface treatment gives our product has tactile appeal, and the ergonomic handle structure design provides users with a more comfortable operating experience.
Furthermore, the total cost has come down by half since imitation carbon fibre surface treatment was applied to the Artist. A lower price with superior quality could be a user-friendly choice.
How to be more attractive?
The appearance of first sight could play a pivotal role while people were looking for goods online or in physical shops. On the grounds of this consideration, our products first come in three primary colours, dynamic blue, mildness orange and elegant black, which can meet personalized needs.
Regarding the colour matching for our first prototype, we use the coolest handsome black with dynamic blue, which helps to display the user's charming personality, and with a little red on the front wheel, it makes the Artist rollator look more energetic. Naturally will be a fancy companion in various places.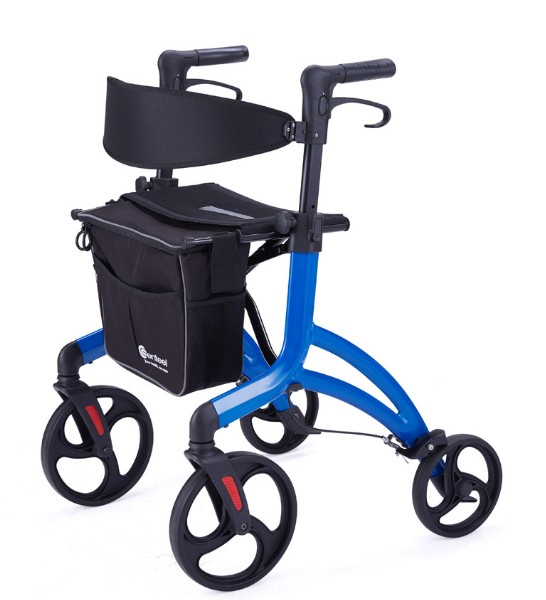 And our Artist Pro can be dark brown coupled with grey frame in transfer printing, an easy, gentlemanly elegance style.

Last but not least, functionality matters above all, the Artist / Artist Pro is constructed with sturdy lightweight aluminium, which is easy to fold to put into the car, and portable for travelling. The handle height can be easily adjusted to meet different stature. A comfortable seat with a backrest is available when you'd like to take a break. And 10'' front wheels option helps offset the shock of uneven ground, which makes pushing easier and energy saved. The delightful thing is that we also have the rear-wheel-drive model, which is more active and smart, capable to adjust the running mode automatically according to the user's physical state and road conditions. In the meantime, anti-fall detection and max running speed limitation monitoring are "always-on" for safety.
How to maintain a consistent standard?
Live by the SAFETY FIRST principle, we had put hundreds of tests according to ISO standards to ensure the new product's functionality and safety before launching. Third-party verification will be performed before mass as well as spot-testing during production.
Would it comes down to a simple choice – to have Artist in your hands?