Shop all you need with our shopping trolley
Nov. 30, 2022
Most people would go for a rollator when it comes to mobility aid products. Rollators typically have a seat height of over 50cm, and width over 40cm, this can be quite hard to handle for elderlies that have a smaller body size. For these populations, there are options that are more suitable, other than junior rollators.
Shopping carts or trolley have been popular as a mobility aid in countries such as Japan and Korea. It is the ideal equipment when space is limited. You can cruise along narrow super market aisles, and go through the metro gate with ease. There are shopping bags with big capacity on the cart, you never need to carry all the bags and risk adding burden on your shoulder or knee. Shopping with a shopping cart or trolley makes daily life much easier.
The 2412 shopping cartis compact, lightweight, and easy to maneuver. It has spacious storage area both under the seat and at the back of the cart. The front wheels can be fixed to go straight only, which is safer for people with weaker mobility; they can also turn 360 degrees. The handles at the sides can be lifted if not needed, and put down when users feel like they need some extra protection and support.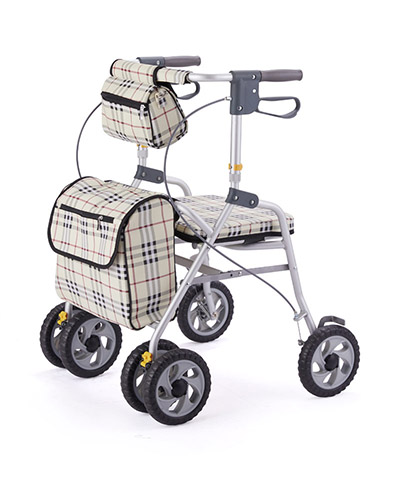 Another option is the 2413 shopping cart. Just like 2412, it is also equipped with 6 inch soft direction fixation EVA wheels. But with different way of engaging the brake, and a small pouch for storage of personal items such as cell phones and keys.