Mar. 28, 2022
A patient lift is just one piece of equipment that helps nursing homes, private residences and hospital caregivers move patients or residents with mobility issues between chairs and beds or from a sitting to a standing position. Patient lifts are essential because they help avoid injury to patients and caregivers by providing a smooth and comfortable transition.
If you are looking for a patient lift for your home or facility, then you are in luck because this comprehensive guide will help you choose the right lift for your needs or the individual entrusted to your care.
What are patient lift sizes?
Lifts come in a variety of sizes and styles, and some models may be too large to fit in your house/facility or bathroom or bedroom. Therefore, it is important to have precise measurements of where you intend to use it and the travel areas between these areas. Match these measures with a patient lift that can easily accommodate your space.
How much weight can the lift support?
Each lift, whether electric or manual, has a maximum weight capacity. Make sure you choose one that can support as much weight as needed. If your patient is losing weight due to a medical condition, make sure the lift you choose can support their previous weight. That's because they may regain their weight as they return to health.
How much portability do you need?
If you need to move the lift frequently, choose a portable patient lift that can be folded for transport or storage. However, keep in mind that even portable patient lifts can be challenging for one person, as most of them weigh nearly 80 pounds. You can disassemble them into smaller pieces for efficiency, but most of these units are designed to move in a single folding piece.
Best Patient Lift for 2022: Our Picks
Below we have compiled our favorites to help you choose the right patient lift.
Portable Aluminium lift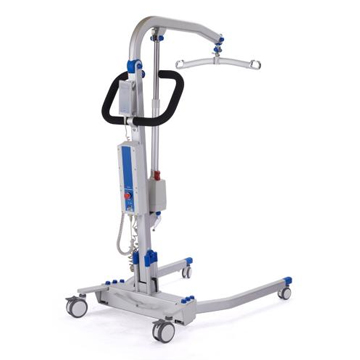 ltem 7107 is a nimble, easy maneuver foldable lift. It can be widely used for lifting in connection with transfers to and from the chair, bathrooms, or beds in the community, hospital, and nursing home. With the folding mechanism, it is extremely easy for transportation.
●Quick opening & closing system of legs by one-step
●Rear wheels with brakes for security
●Quick-release sling bar, double-bar is optional
●Quick folding mast
●Legs can be closed to be extra narrow for storage
●The whole lift is completely foldable to be a small size for storage and transfer
You can find the high-quality portable aluminum lift, click here.
Steel stand up lift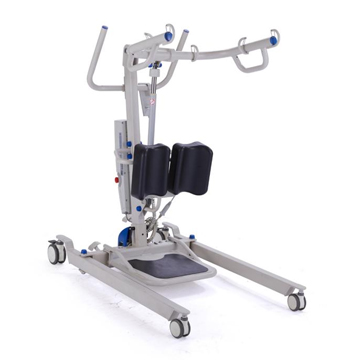 ltem 7203 is a nimble mobile stand-up lift, extremely easy to maneuver around. It can be widely used during standing, toileting, and transferring in community, hospital, and nursing homes. With the wide boom, it can also be used for horizontal transfers among beds, chairs, and bathrooms.
●Heavy-gauge steel stand up lift with a weight capacity of 200kg
●Provides stable assistance in standing, transferring, and toileting
●Electrical raising and lowering, foot pedal control base -width adjustment
●Soft adjustable PU knee pads provide comfort and best positions of width
●The rubber footpad provides a nonslip standing and can be removed
●Underbed clearance 4.0" allows accessibility to most beds
●Equipped with 3" front wheels and 4" lockable rear wheels
●Quick-release structure enables a compact packing
●Manufactured in an ISO13485 facility
View more information about the steel stand-up lift, click here.
Bariatric Aluminium Lift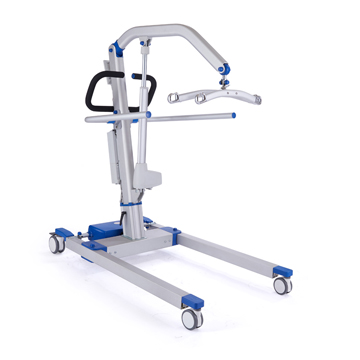 ltem 7102 is an aluminum lift for bariatric use with a weight capacity of 320kg. It allows patients to be transferred from floor positions, beds, chairs, and other support surfaces with comfort and safety as an ideal floor lift. It is TUV certified per ISO 10535.
●320kg max load especially suitable for shape or widely use in hospital
●Safe and stable with electrical operation system
●Convenient for electrical adjustment of leg opening & folding
●Safer and more stable for quick release double sling bar and four suspensions
●Armrest reassure the stability for the user when gait training and toileting
●Rear wheels with brakes for security
●Total height adjustment in 3 positions
●Easy knock-down mast for easy storage and transfer
Where can I buy a patient lift?
Let us help you find the best patient lift for your project. When you contact us, please provide your detailed requirements. That will help us give you a valid quotation.
If you are an importer or wholesaler interested in purchasing in bulk, please email us at info@genteelmed.com. We provide OEM, ODM services and have products designed by our R&D team for your selection.