Mar. 15, 2022

Once you have determined that a shower seat is the best choice, you will need to consider a variety of factors to ensure you find the right one.
Adjustable Height
Most shower seats come with height-adjustable legs, but you will need to check this before you buy. Height-adjustable legs allow you to adjust the height of the seat to the most comfortable level. This way, you can sit comfortably without straining your joints or "flopping" down. The range of heights a chair can withstand varies from chair to chair, so be sure to check the specifications and choose a seat that meets your individual needs.
Suction Feet Vs. Padded Feet
Because shower chairs are regularly on a wet surface, most chairs feature to rubber, slip-resistant feet to ensure that the seat remains stable when you sit down. Be sure to confirm your shower seat of choice includes these before purchasing. If you have significant balance issues, you might consider suction cup feet that completely secure the chair to the floor for maximum stability.
When deciding between a bench with suction cups or padded tips, it is ultimately up to what you prefer. Suction cups are the recommended option, as they secure the bench to the tub and floor and entirely prevent it from slipping. However, if you do choose padded tips, be sure that they are considered 'non-slip' tips to ensure your safety.
The Deluxe Shower Chairs has the following features:
-Non-slip rubber tips for extra - stability and safety
-The anodized aluminum chair has a protective oxide layer for added strength
-Tool-free release of the backrest and handle
-With the tool-free release
-Easily foldable frame for convenient transfer and storage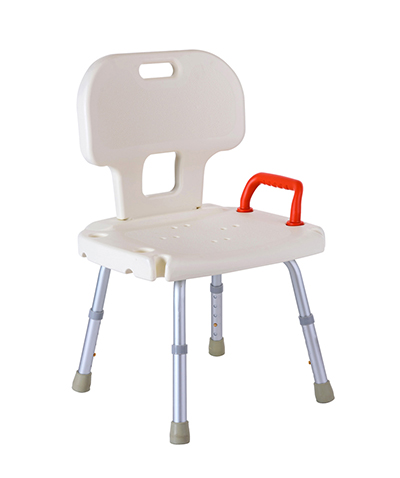 The Best Shower Chair to Buy, Click Here.
Arms Vs. No Arms
You may also have to decide whether you want a shower chair with or without armrests. A shower chair with arms can help you lower yourself onto and stand up from the seat with ease. This can be a useful feature if you can safely step into and out of the tub to sit on the chair from the front. However, if it would be safer for you to sit onto the chair from the side and lift your legs over the tub wall, a chair without armrests is a better option.
Padded Vs. Unpadded
Shower chairs can come with either padded or unpadded seats. Padded seats provide additional comfort that may be necessary if you take long showers, are thin and bony, or are prone to skin tears. However, unpadded chairs are often less expensive and are easier to transfer on and off.
The Foldable Shower Chair with cushion includes the following features:
- EVA cushion added for extra comfort, especially during winter
- Height adjustable to meet different needs
- Can be stood after folding to save room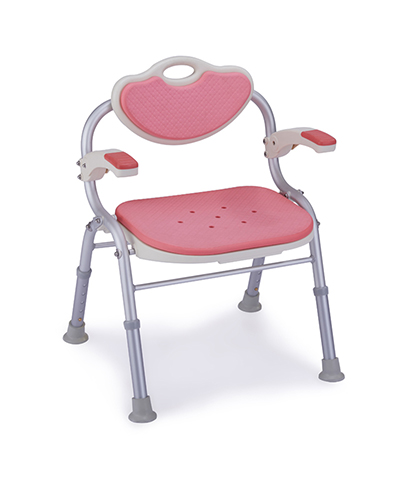 Swivel/sliding
As mentioned previously, some shower chairs have a seat that can swivel or slide. This feature can make getting into and out of the tub a bit easier. If you choose a sliding or swivel shower chair, you might also look for one with a locking mechanism that can safely keep the seat in place while you bathe.
The Swivel Sliding Transfer Chair allows users to turn 360 degrees. Locking every 90 degrees, entry, and exit from the bench is now safer and easier. Smooth surface and drainage holes on the seat require minimal cleaning. The product is easy to assemble, the frame folds up neatly, and is designed to fit most bathtubs, its lightweight allows users to remove the bench when not in use.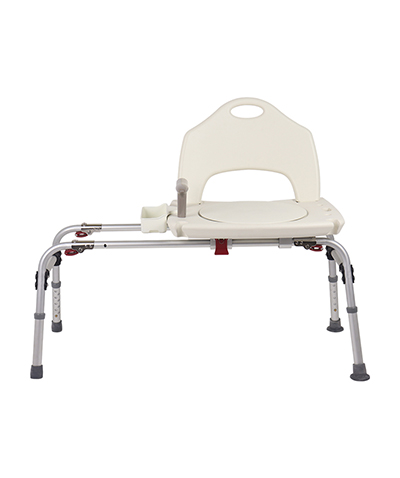 View more information about high-quality shower chairs.
How To Maintain A Shower Seat?
Because your shower seat is constantly exposed to water and warm, humid air, mold and other bacteria can easily grow. To keep your shower seat looking and performing as well as new, be sure to do the following.
Wipe soap and other residues off the chair after each use.
Dry with a towel or soft cloth after each use to avoid damage from water buildup.
Clean regularly with a mild detergent and warm water. It is best to use a bristle brush to ensure that the crevices of the chair are thoroughly cleaned. Make sure to clean not only the seat, but also the bottom and legs.
If your seat has drainage holes, you can use cotton swabs to clean them regularly. These holes are just as prone to mold and mildew growth as any other part of the seat.
Rinse thoroughly and dry after cleaning with detergent.
Check often to make sure there are no cracks or other damage and that the legs are locked in place.
Find a Reliable Shower Chair Supplier - About Genteel
If you are an importer or wholesaler interested in purchasing in bulk, please email us at info@genteelmed.com. We provide OEM, ODM services and have products designed by our R&D team for your selection.
Let us help you find the best shower chairs for your project. When you contact us, please provide your detailed requirements. That will help us give you a valid quotation. Thanks.