Feb. 25, 2022
So, what is the best rollator? There's no one "best rollator" in particular; it mostly depends on the user's personal needs and preferences. This article helps you find out which type of rollator is right for you, or if you are a physician, how to find the best rollator for your patient.
Folding Rollator
Most people find that one of the most essential qualities of a rollator is whether it is easily foldable so that they can conveniently carry a rollator in a vehicle with them whenever needed If you are always on the go, traveling to places, a folding rollator might be the right choice for you.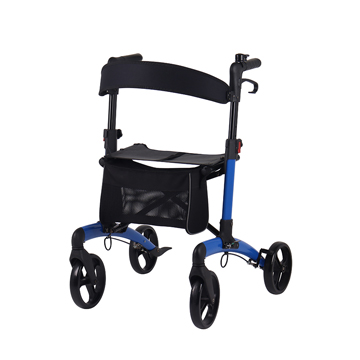 Dolphin Rollator
Designed with lightweight aluminum, loop-lock brake, threshold aid pedal, sturdy backrest, and seat, the dolphin rollator has all the features you need, plus the compact folding size. With a double folding feature, The rollator requires minimum space for storage and transportation. No assembly is required. It is ready to use when it is out of the box, saving time and energy for users or caregivers.
Quick Link to the Dolphin Rollator.
Rollators with a higher weight capacity
The rollator's weight capacity should definitely be considered to ensure that it can safely support the user. Standard rollators can typically support users weighing from 250 to 350 pounds. If you find that you would like to have a heavy-duty rollator, you can search for rollators that have a weight capacity ranging from 400 to 500 pounds.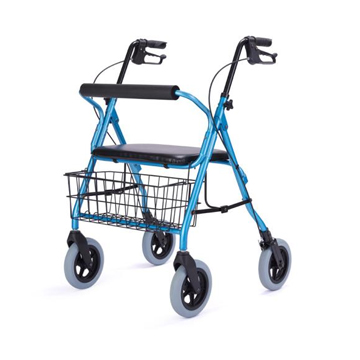 Heavy-duty Rollator
Rollator Wheel Size
Besides the number of wheels on your rollator, you'll want to take into consideration the wheels' diameter. The diameter of most rollators' wheels is between 6 to 10 inches, and wheels that have a diameter of 8 inches or over 8 inches are considered large wheels.
Lots of people think that a rollator equipped with large wheels will be the best rollator for them. Larger wheels make it easy to maneuver the rollator outdoors and over uneven terrain. Think about where you will be using your rollator: will you often need it outside on bumpy roads or over different terrains? If that's the case, it is better to get a rollator with bigger wheels.
If you mostly use your rollator indoors, then 6 to 7-inch wheels will be a better choice. You will most often go through even ground, and smaller wheels that have a tighter turning radius will be better for moving in the house and among your furniture.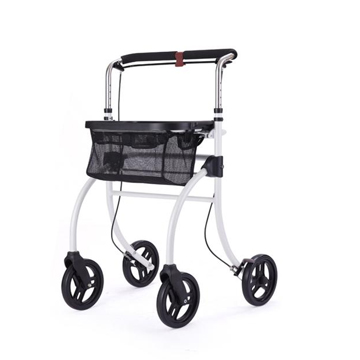 Versatile Indoor Rollator
Rollator replacement parts
Most people might want their rollators to last as long as they need. The best way to ensure this is to purchase a rollator with readily available replacement parts. This way, if it is damaged in any way, you will only have to replace the damaged component rather than the entire rollator.
Common Questions
Can You Push Someone In A Rollator?
No, it is dangerous to push users in most rollators. If you need a rollator and also need to be pushed by other people occasionally, we recommend purchasing a rollator/transport hybrid. These rollators transform into transport chairs, allowing the user to walk by themselves and use the rollator as a support, and can rest on the rollator and let the caregiver push them to places when they need to. We also have this product on our website if you are interested in a rollator/transport hybrid.
Are Rollators Covered By Insurance?
Yes, rollators are covered by insurance mostly. A rollator must be deemed as "medically necessary" to be covered by insurance, meaning it is necessary to treat an injury or condition or its symptoms. This can be determined and documented by your doctor, and once approved, you will receive a prescription for a rollator from a supplier approved by the government.
Can I Take My Rollator on a Plane?
Yes, in the U.S., rollators are considered "Assistive Devices" by the U.S. Department of Transportation and are allowed on airplanes. Because your rollator is an assistive device, it will not be counted toward your carry-on or baggage limit. You will not have to pay an extra fee if you check it with your luggage.
Where can I buy a Rollator?
Rollators should be available in local medical equipment supply stores, supermarkets, rehabilitation clinics, and online. If you are an importer or wholesaler interested in purchasing in bulk, please contact us at info@genteelmed.com.