Jan. 19, 2022
Transport chairs are lightweight, compact mobility chairs that combine the functionality of a wheelchair, but with better maneuverability. Transport chairs are often purchased as additional mobility equipment for holidays, excursions, or other types of travel outside the wheelchair user's home.

Transport chair vs. wheelchair
Wheelchairs can be operated by caregivers or users themselves. In contrast, traditional non-electric transport chairs can only be operated by caregivers, which are often applied in hospitals suitable for people who could not use a wheelchair.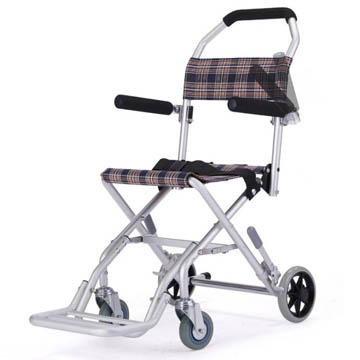 Super Light Transport Chair
Compared to wheelchairs, transport chairs are usually lighter, more compact, and foldable, they are excellent for people with limited mobility who like to travel. For those with a certain level of mobility, a transport chair is even more perfect. One can fold the transport chair and store it in a car when the user feels like walking by themselves, they can also take the transport chair out any time when they need a little rest.
The Genteel Super Light Transport Chair is equipped with a user-friendly rear wheel lock to keep the chair in a locked position, the chair is also fitted with a seat belt for safety. Equipped with fold-down footrests, and EVA flip-back armrests the transport chair can be folded for compact storage.
What do you need to know before using a transport chair?
To transport a person safely, there are a few tips you need to know before using a transport chair. First, It is essential to park the chair at a place with plenty of space; before moving a person onto the chair, always double-check that the brakes of the transport chair are locked and that there is no obstacle on the way to the chair.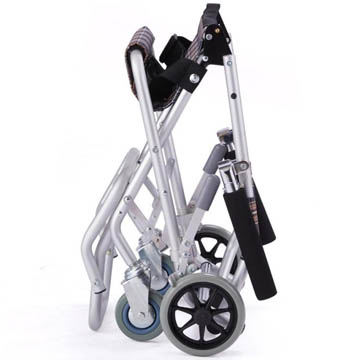 Super Light Transport Chair
Questions you need to ask before purchasing a transport chair
There are all kinds of transport chairs available online, or in-store, in order to get the right product for your loved one or patients that you are taking care of, here are some specific questions that need to be answered about transport chairs, such as:
1. Is it foldable? If yes, how long does it take to fold the chair? How easy is the process?
2. How big is it when it is in its folded state? Do you need to disassemble the chair?
3. How heavy is the chair?
4. Can one person lift it, or will it need to be loaded by more than one person?
5. What are the accessories?
Where can I buy a transport chair?
Transport chairs are available online on retail e-commerce platforms, or in stores that sell mobility aid products or hospital equipment.
If you are an importer or wholesaler interested in purchasing in bulk, please email us at info@genteelmed.com. We provide OEM, ODM services and have products designed by our R&D team for your selection.