Feb. 04, 2021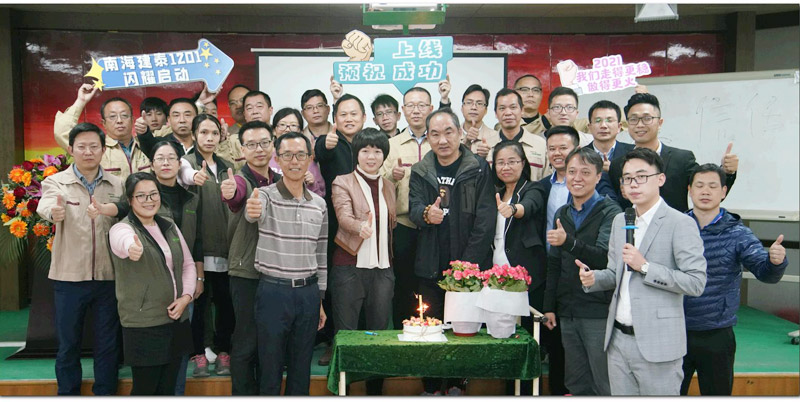 On December 1, 2020, Nanhai Genteel Homecare Products Co., Ltd., together with the secondary and senior leaders of Xugong, Hanyun, MES, Xin Rui, partners of Genteel, the initiation of the Cluster Project held in the multi-function hall in Genteel. Genteel was established in 1995. Since then, Genteel has been devoted to IT constructions. From Tianxin ERP which was applied in 2000 to the introduction of Digiwin ERP in 2009, systems such as PDM, 4R, BI, BPM, CRM, PLM, WMS, process bar code, and other management applications systems were launched successively. Quality modules such as IQC, PQC, FQC, OQC, and HR management modules were developed and launched by our IT team. IT constructions have always been one of the core competitiveness of Genteel.
With the guidance of the Industry 4.0 Development Vision of Chinese Enterprises, Mr. Pan, the General Manager of Genteel, has a vision for Genteel's IT development for the next 10 years, which is to transform our factories into intelligent manufacturing plants with high efficiency and transparency. Genteel has started to do comprehensive planning and implementation for the vision, with supports from our suppliers such as Hanyun Xugong, Zhian Xinrui, and other industry leaders.
With a proud history of more than 25 years, Genteel places great importance on customer's demand and the quality of our products. We strive to improve customer satisfaction through IT construction. We put efforts into meeting customers' needs of rapid delivery, cost reduction, quality traceability, and process transparency. Our goal is to build an intelligent and reliable manufacturing plant making our customers feel assured, and allow users to feel safe when using our products.
In 2021, Genteel will start the first stage of building more transparent factories, which includes the integration of production and marketing, intelligent APS automatic manufacture scheduling, intelligent workshop production, integration of equipment and mold management, and monitoring and visualization of orders.
Mr. Pan, the General Manager of the company, and Ms. Chang, the Vice General Manager, took a solemn oath together with core team members to work towards digital transformation.

As the backbone of the medical device industry in South China, Genteel will continue to go deeper and further along the way of industrial innovation with higher quality. We aspire to be the leader in creating a better and more comfortable life for older adults.